Pay Advantage & Xero Integration
Connecting Pay Advantage to your Xero account is a powerful and flexible way to manage your invoices and take payments from customers.
With Pay Advantage and Xero integration you can:
Synchronise and merge your customer list between Pay Advantage and Xero

Add a pay now button to Xero Invoices

Accept BPAY on your Xero invoices 

Reconcile payments with a Pay Advantage Clearing account
We are constantly working on improving our integration with Xero to make the process as seamless and easy as possible, at the moment we see two common problems that occur when connecting and synchronising Xero accounts;
How Xero differentiates Customers/Contacts between Suppliers

Not using a Clearing account to Reconcile payments & prepayments
There is some setup involved to get the most out of your Pay Advantage and Xero integration and some of it is best to work through with your accountant or bookkeeper ensure accounts that money is going between is correctly setup.
Customers/Contacts and Suppliers
A Supplier in Xero is any contact with a Bill attached to them. A Supplier can also be a Customer if they have an Invoice and a Bill attached to them. We merge all Customers and all other Contacts (not marked as Suppliers or Customers). If you have Suppliers in your Contacts list who do not have a Bill attached to them, they will be merged.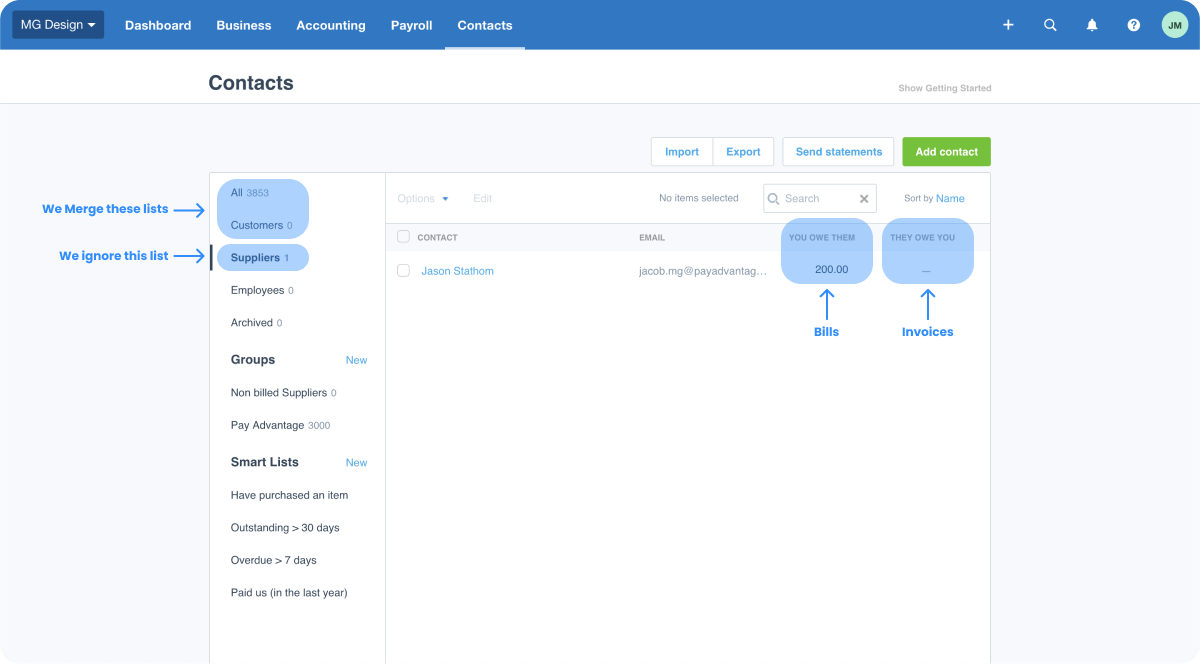 Important: Contacts can appear in both the Customer and the Supplier list if they have an Invoice and a Bill attached to them.
Clearing Account & Reconciling Payments
This is leaning more towards the accounting side of things. To avoid confusion or to help you understand a bit more we recommend working through this with your accountant/bookkeeper or a friend who is "pretty good at that accounting sort of stuff". 
Pay Advantage marks Xero invoices as being paid once a payment has been processed, not when it is deposited into your bank account. This doesn't impact the money you are being paid or received, however it can cause problems with how invoices are reconciled in your Xero account. 
To avoid this causing problems, it is a good idea (and good accounting practice) to create a clearing account in Xero.
Next Steps