Overview
Before you connect your account please read our 'Before you Integrate with Xero' article here.
Connecting Pay Advantage to your Xero account is a powerful and flexible way to manage your invoices and take payments from customers.
With Pay Advantage and Xero integration you can:
Synchronise and merge your customer list between Pay Advantage and Xero

Add a pay now button to Xero Invoices

Accept BPAY on your PDF/Printed Invoices

Reconcile payments with a Pay Advantage Clearing account
Connecting your account
In Pay Advantage go to your 'Xero' section under 'Integrations' in the menu (If you don't see Xero in the menu, please contact support to enable this feature for you. Please note not all rate plans can connect to Xero, and a weekly fee may apply for this service).
Review and agree to our terms and conditions, then click the 'Connect to Xero' button.
You will be taken to the Xero login page, where you will need to enter your Xero login details and authorise Pay Advantage to access your organisation's business data. We only use this to verify your account and make sure that we can appropriately protect and sync information.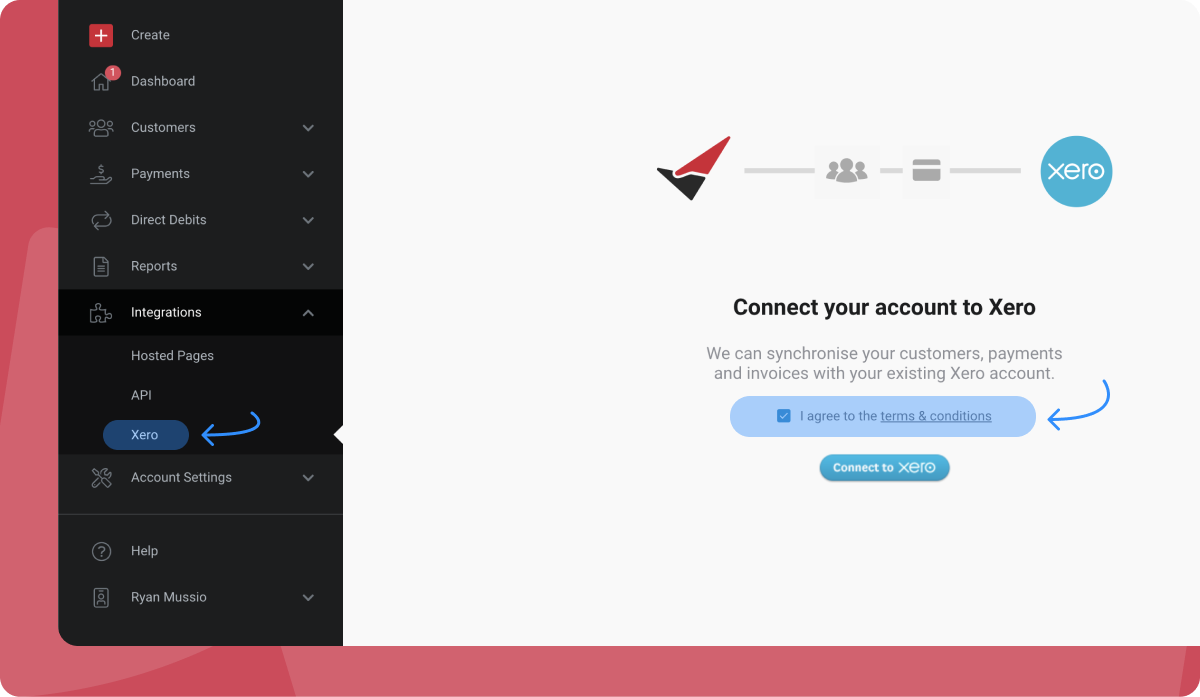 Configuring your Xero Integration
After you have connected your accounts you should see a list of settings you will need to confirm before you start the account sync. We select some defaults for these settings when you first setup. They should match the right accounts in your Xero, however it might be a good idea to double check and understand what each one is doing. If you are unsure of how to configure these please check with your accountant.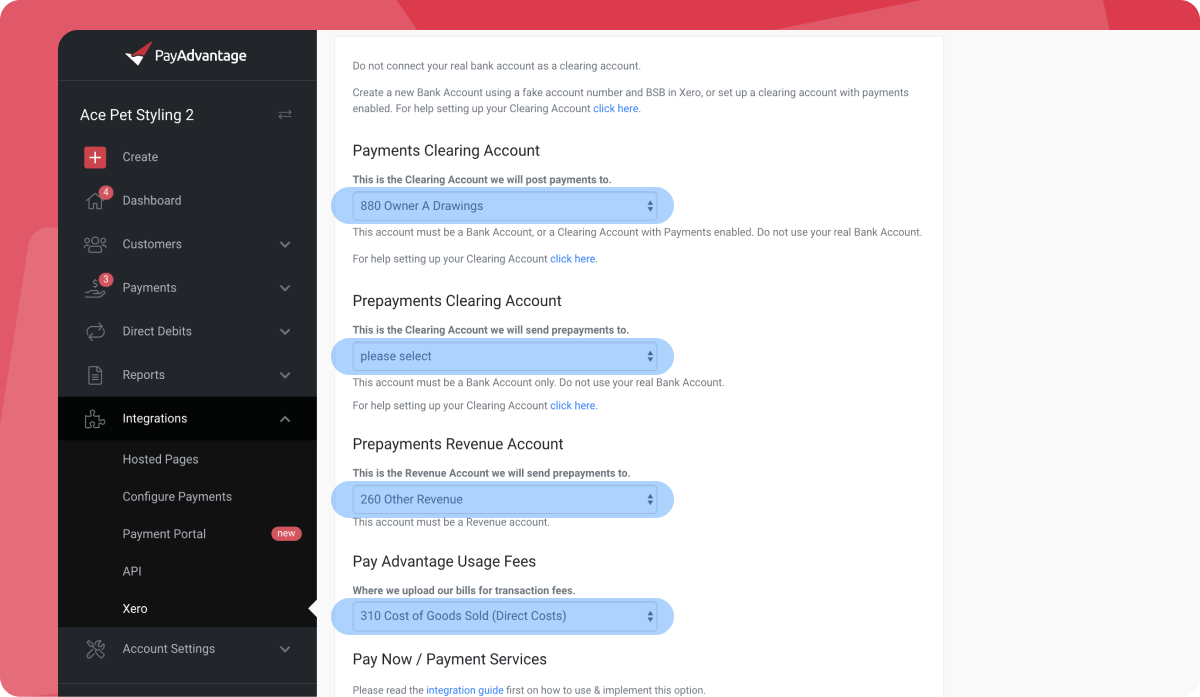 As you can see in the example above, there are a few fields to change which account different payments will go to. The table below provides an explanation for each. This is a bit of a choose your own adventure - we recommend you bring your book-keeper or Accountant along for the journey too.
It is important to remember these settings are for connecting to a clearing account only. You shouldn't be posting Pay Advantage payments to the same Xero bank account your bank is connected to.
Click here for an example on how to set this up
Field

Description - What can be used here

Payments Clearing Account

This is where your payments will be transferred to in Xero from Pay Advantage. We recommend setting up an xero bank account with the name "PA Clearing Account" you want money credited from Pay Advantage when a payment is settled. You can use a regular account in Xero if it is set as a clearing account with payments enabled.

Prepayments Clearing Account

This must be either the "PA Clearing Account" or "PA Prepayment Clearing Account".

This is the clearing account we will send Prepayments to. Prepayments occur when you receive BPAY payments and there are no invoices to pay off for that customer. Since the money needs to go somewhere in Xero it creates a credit invoice. You will need to create a standard invoice that matches the amount of the credit invoice to enable it to be paid. To enable the reconciliation process to work effectively you will need to set-up a Pay Advantage clearing account in Xero.

Prepayments: Revenue Account

This is the revenue/sales account you will reconcile with and move payments into as necessary within Xero. Read more about accounting for prepayments here.

Note: The account that monies are paid into cannot be the same as your reconciliation account. If the same account is used, payments will not be reconciled properly.

Pay Advantage Usage Fees

Choose how you would like Pay Advantage fees to be posted on your Profit & Loss

This is defaulted to '300 - Purchases (Direct Costs)'. You can use the dropdown menu to change this to a different account.
If your Bank Account is NOT showing up you may not have set a code for it in Xero. All normal accounts must have a code. For bank accounts however, it is optional. If it is not set, 3rd party plugins and software like Pay Advantage cannot reference it.
To change the code for your Bank Account in Xero, go to your Chart of Accounts section and edit the Bank Account details.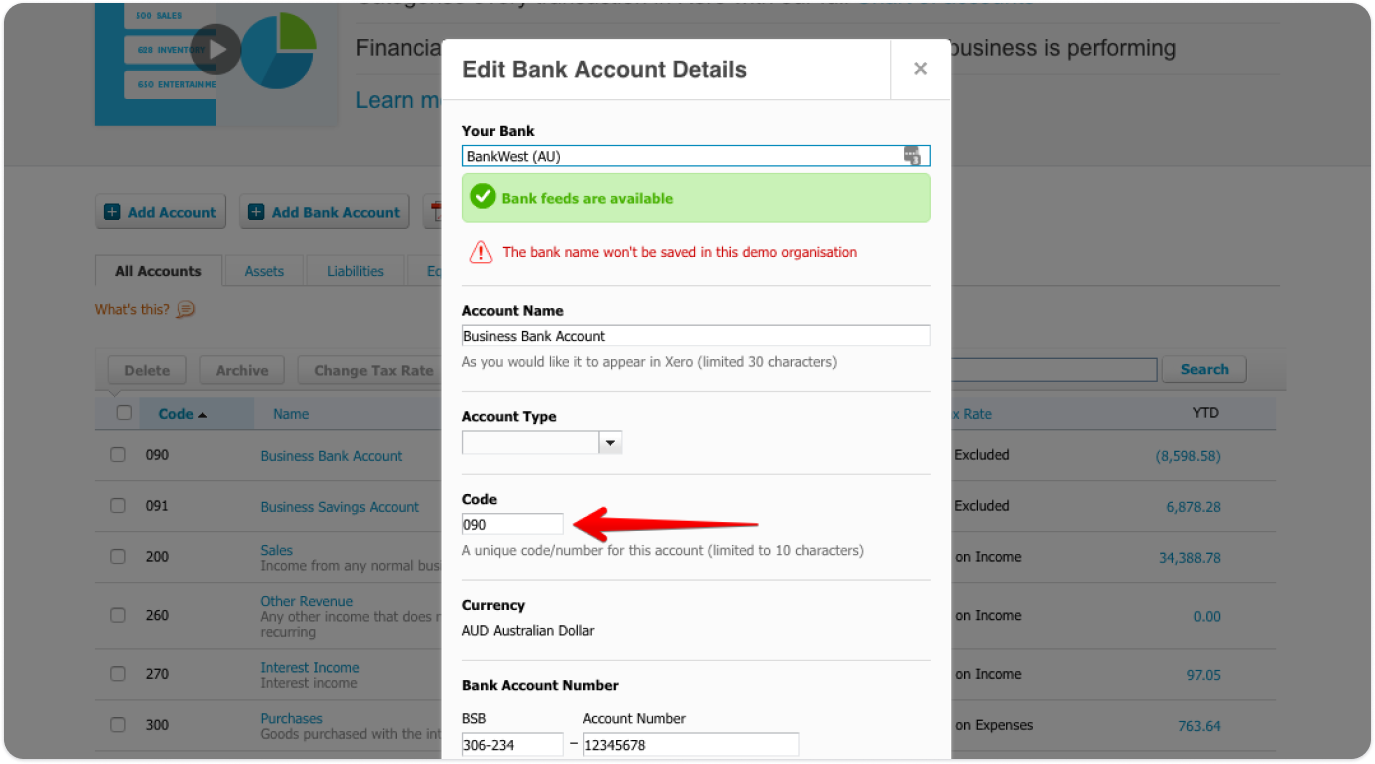 Automatically send Invoice Payment Request emails for new invoices
You can automatically send an invoice payment request directly out of Pay Advantage anytime a new invoice is created and is turned on by default when you first connect your Xero account.

How does Payment Uploading / Synchronisation work?
Credit Card and Direct Debit payments that are approved and made from the Pay Now button are always posted directly against the matching invoice.
BPAY payments will be uploaded to Xero and applied to outstanding invoices. We will attempt to match BPAY payments to invoices by matching the amounts. If a suitable match cannot be found, we will apply the payment to outstanding invoices starting with the oldest. Invoices that are linked to payment plan will not have BPAY payments applied to them.
Direct Debit or Virtual Terminal that are not applied directly to an invoice, are not uploaded to Xero. Batch Debits are not uploaded to Xero as they are not related to a Customer.
Merchant Invoice Integration
Reconciliation fees and charges related to your Pay Advantage Account are automatically uploaded to Xero. When we generate an invoice, it will automatically be added to Xero against the matching 'Pay Advantage Contact'.
Only invoices generated after the Xero start date will be uploaded.
Invoices with adjustments will be handled as follows:
When a credit invoice has been applied, and was created after the start date. The credit invoice will be uploaded and applied to the Xero invoice.

When a credit invoice has been applied, and was created before the start date. The credit will appear as a line item on the Xero invoice.

When a credit has been applied, it will be recorded as a line item on the Xero invoice.

When a debit has been applied, it will be recorded as a line item on the Xero invoice.
Credit Invoices that are not fully applied will be uploaded to Xero as unapplied, or partially applied. These will be applied to the next invoice automatically. Do not manually apply the credit invoices.
You will need to select the correct accounts for the fees included in the invoices. If unsure, please check with your accountant.
Synchronising Customers
Once the settings have been saved, Pay Advantage will start synchronising your account with Xero. Customers will show when they were last synchronised with Xero. Whilst your account is connected to Xero, you will be able to navigate from the Pay Advantage Customer to the Xero contact.
Synchronising Payments
You can view if a payment has been synchronised to Xero by clicking on a payment to view the receipt in the Pay Advantage client portal.
Activity Log
The activity log records the details of any actions that occurred between Pay Advantage and Xero. It also provides links to any Xero related actions. You will need to be logged in to Xero to follow any of the links.
Actions
The actions will show any problems matching Pay Advantage customers to Xero contacts that could not be resolved automatically. Anything relating to the affected customers will not be synchronised until this has been resolved.
Messages
The messages will show any information of significance. These include:
When a customer has to be given a different name in Xero (Xero has a requirement that names are unique).

Mobile number is not valid and was removed

Email address is not valid and was removed
Important Information
Xero is designed for organisations that process up to 1,000 invoices per month. As such we are restricted in the number of payments we can upload to Xero. A maximum of 200 prepayments per night can be uploaded. If you attempt to upload more than 4,000 payments in a 30 day period we will disable the upload feature of your payments.
Only payments made after the start date that you connected your account to Xero will be uploaded.
If at any point you encounter problems within your Xero account you can contact their support here.
Next Steps