Overview
Add a 'Pay Now' button to Xero invoices so your customers can be directed to a secure payment portal hosted by Pay Advantage where they can;
Pay for the invoice instantly using their preferred credit card

Create a payment plan to pay the invoice using instalments

Generate a BPAY reference number to pay through their internet banking

(please note, to add BPAY to PDF invoices read here)
If the payment is made by credit card or with a payment plan, and is approved. It will automatically apply to the matching Xero invoice.

Enable your 'Pay Now' Button in Pay Advantage
To enable 'Pay Now' you must first enable and configure Hosted Pages.
Hosted pages can be found under 'Integrations' in the menu. Firstly, set up your Logo and Brand colour in the Complete Branding section. Next, choose which payment methods to display to your customers in the Configure Payments area. Please note that if you turn BPAY on customers will be able to generate a BPAY reference number through your portal.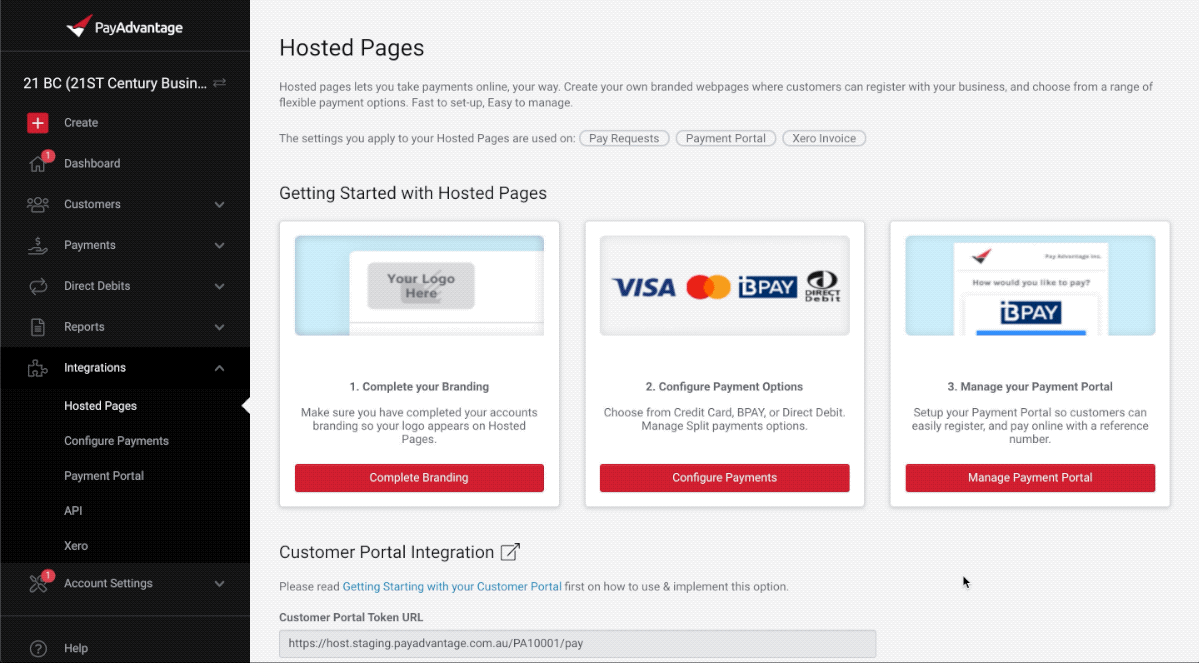 To preview what the page will look like for a customer copy the Customer Portal Token URL into a new tab and you should be an idea of how someone will view your portal.
Configure 'Pay Now' button in Xero
Xero has a quick guide in their support centre about how to add the 'Pay Now' button to your invoices, read it here.
You can find your Pay Advantage Custom URL in your Xero Integration Settings Area. Under the Integrations menu navigate to Xero, then the settings in the top bar. Under Pay Now / Payment Services you will find your URL to copy and paste into Xero.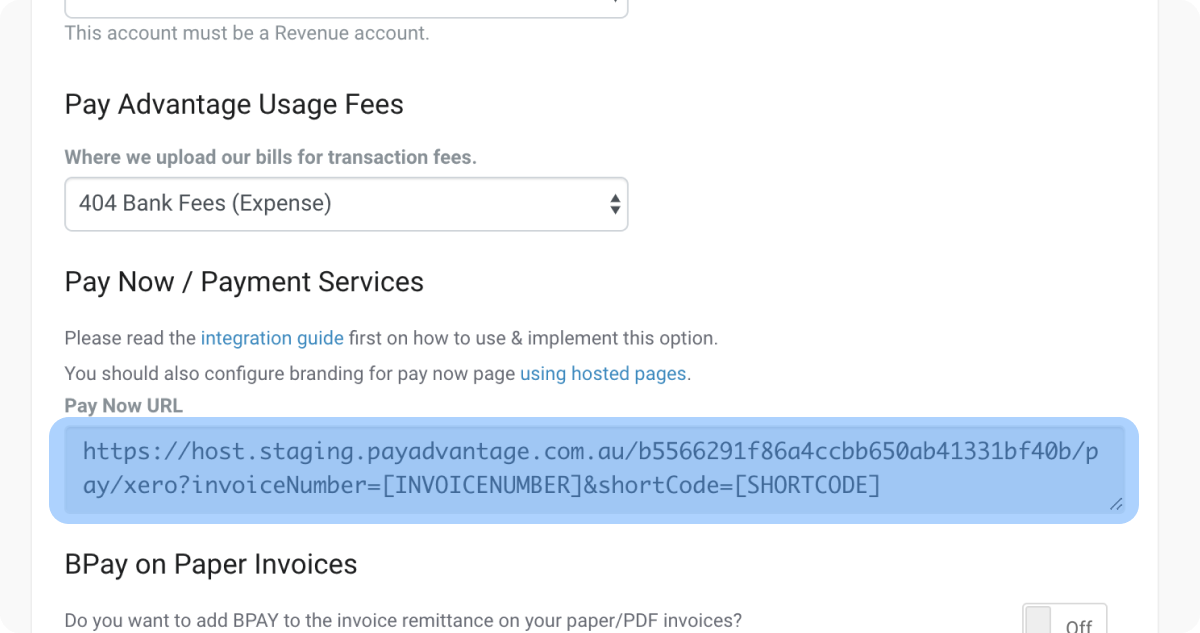 Enter the Name as Pay Advantage and don't change the Pay Now Text section.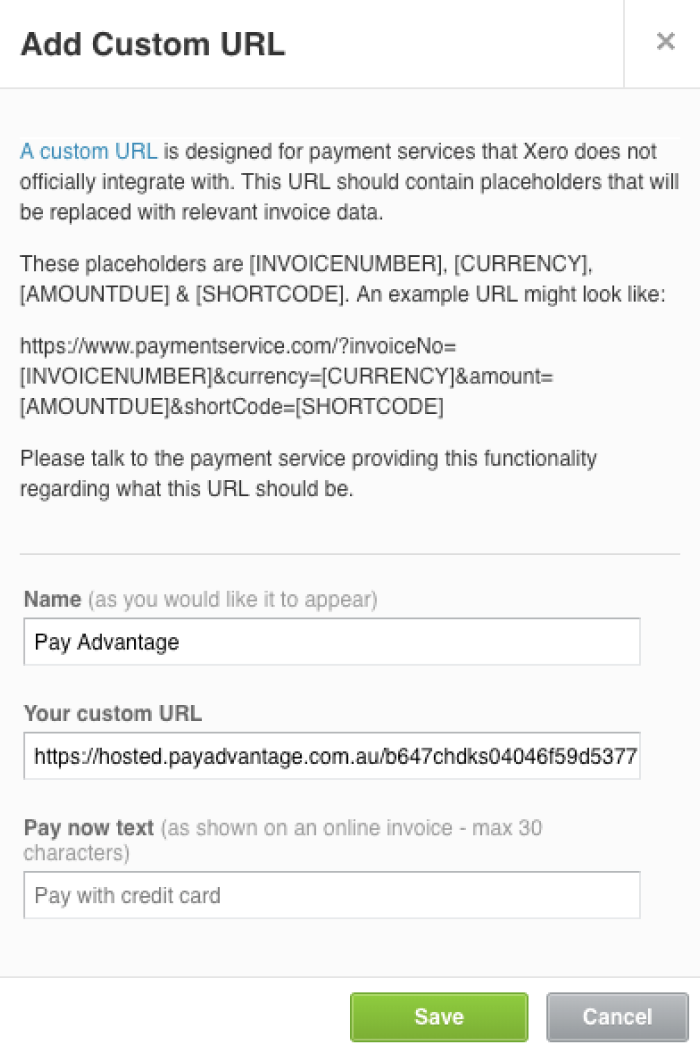 Once saved you must ensure you apply the branding theme on the Payment Services screen, under Active Payment Services, click Manage Themes otherwise you will not see a Pay Now button on invoices.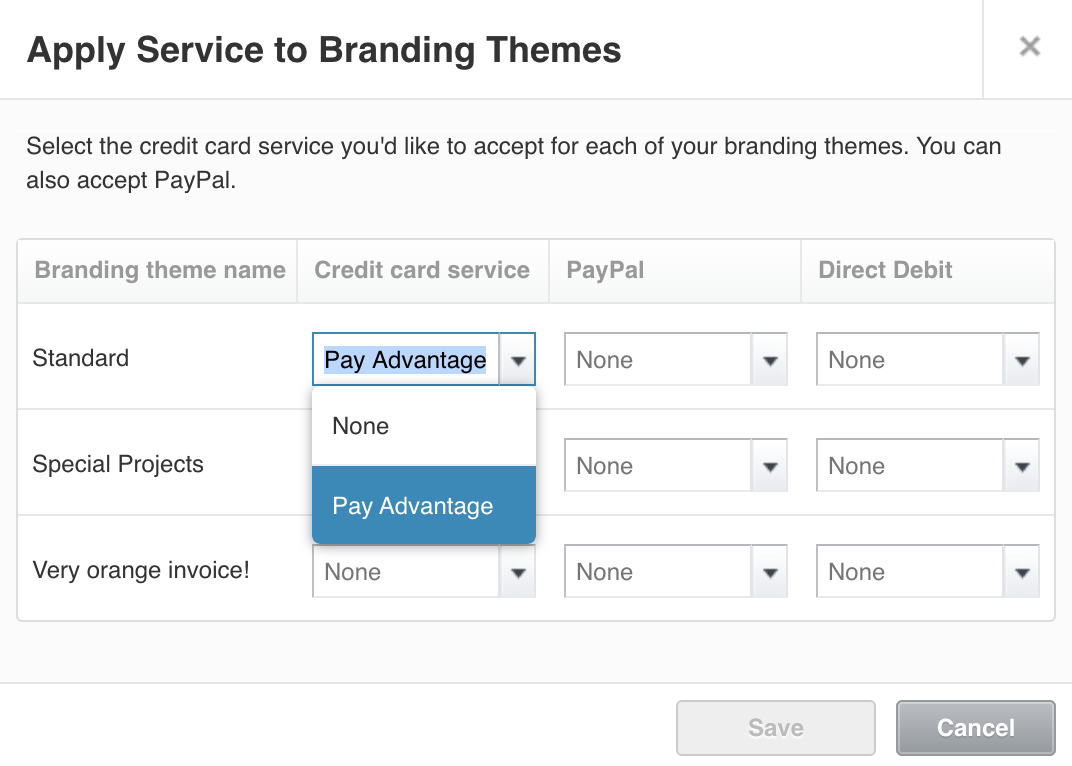 Continue with the directions in the Xero Article here and customers can now use your 'Pay Now' button on Xero invoices.
When a customer clicks on the Pay now button they will be taken to a payment page where they can enter their payment details. Paying for the invoice by credit card will record the payment, apply the payment to the invoice in Xero, and update the invoice to 'Paid'.
If you can not see a Pay Now button on invoices see: https://central.xero.com/s/article/Fix-problems-with-payment-services
If at any point you encounter problems within your Xero account you can contact their support here.
Related Articles