Active
After a direct debit has been approved it will become active. While active a direct debit will attempt to process a payment whenever an instalment comes up.
It is important to remember that a direct debit can continue to be actively attempting to process payments even if there is an account error or it is being re-authorised.
If you want to temporarily pause or cancel an active direct debit from attempting to process payments, you can manually do this by clicking the Suspend button and recording the reason. This will appear in the timeline.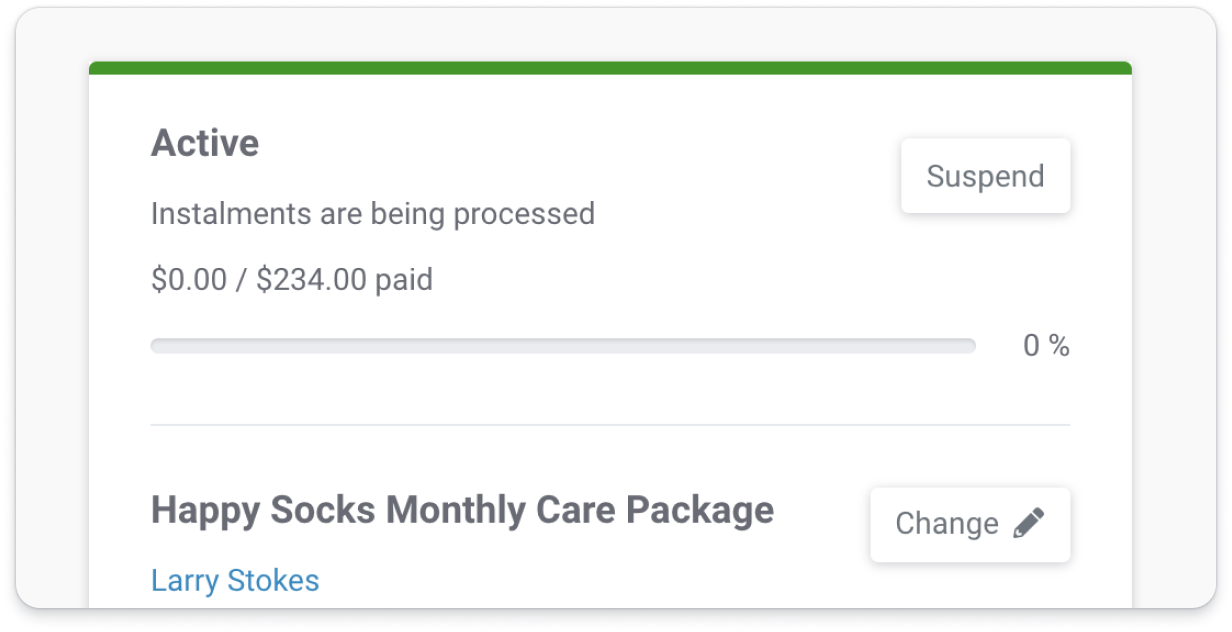 Paused
A paused direct debit is not actively trying to process payments. Any instalments that occur well a direct debit is paused will be missed due to the paused direct debit and can be manually rescheduled to a date of your choice.
Pausing a direct debit is useful as an automated action when a payment fails or dishonours to reduce the fees a customer will have to pay until the payment can be resolved.
Another reason to pause a direct debit may be that your customer wants to miss the next two instalments and pay them at a later date. You can pause the direct debit and reschedule the payments after they decide to make their direct debit active again.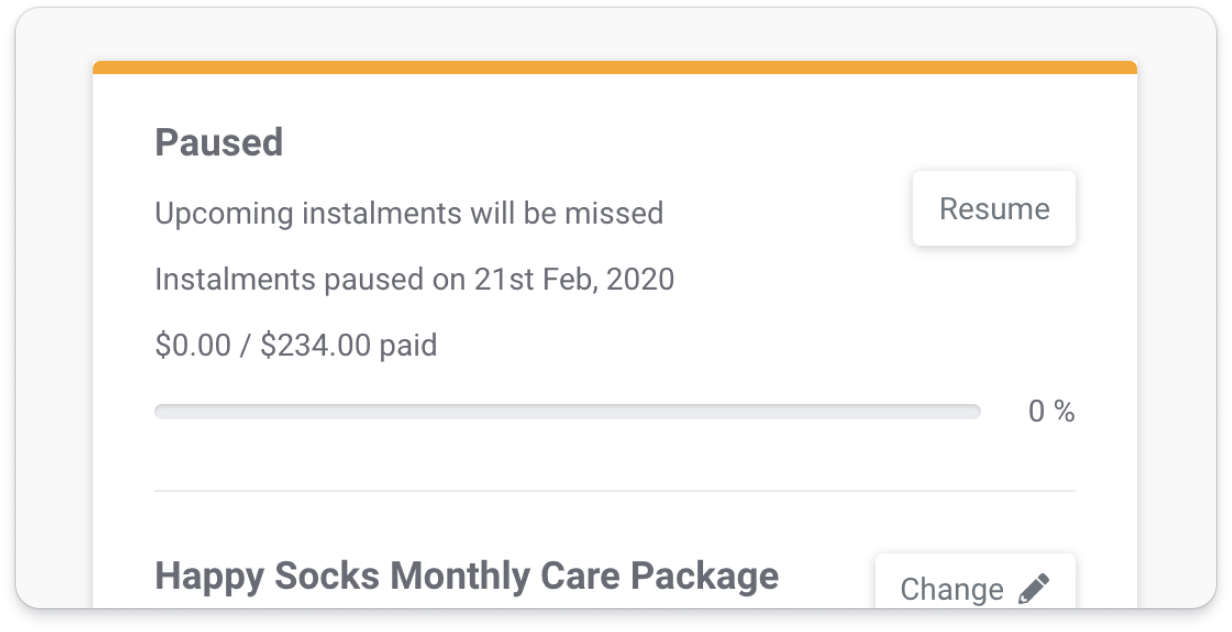 Account Failure
When there's a problem with the payment account this status will appear next to the direct debit state (Active or Paused). The direct debit will continue to be active or paused but the payment account will need to be corrected or changed before payments can be processed successfully.
Click change account to authorise a new payment account or amend these details with your customer.
If you are unable to contact your customer or change these details for some time, it is a good idea to pause the direct debit until this is fixed to reduce the risk of extra dishonour fees stacking up. If a change in payment account cannot be resolved, we recommend you manually cancel the direct debit as a finalised state.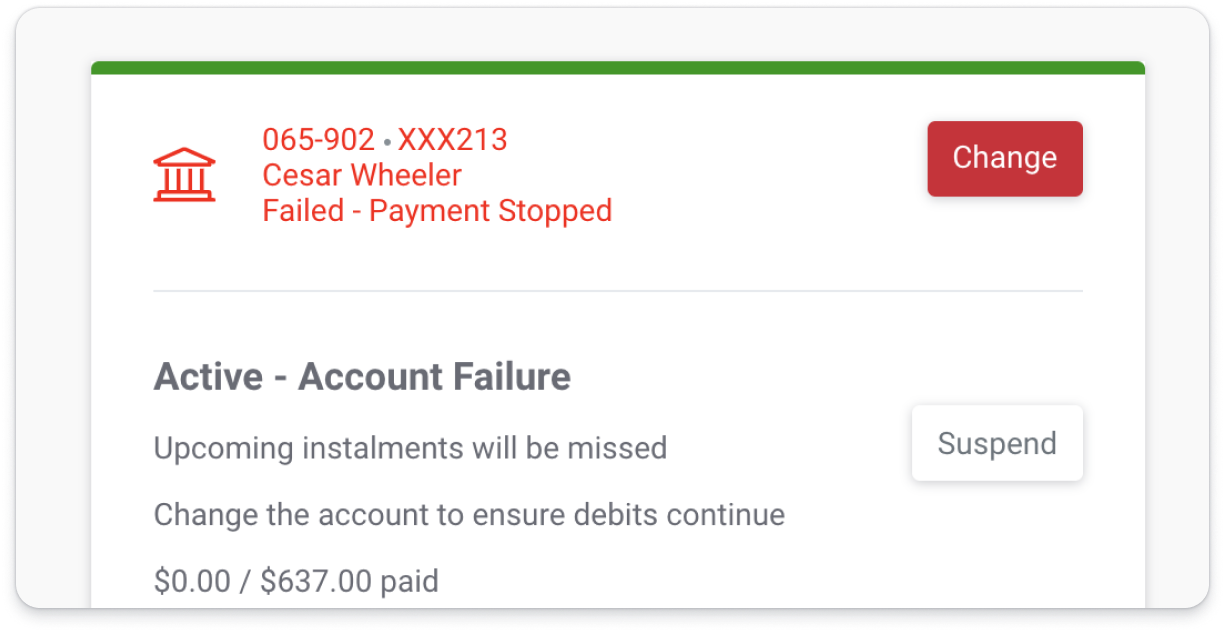 Draft
A draft direct debit has all its details entered, however it hasn't been authorised or had an authorisation request sent to a customer. At this point it can still be changed and will not process any payments until it becomes active.
Pending Authorisation / Awaiting Signature
This message will appear when an authorisation request has been sent, or a paper form is submitted for approval. Once the authority has been signed or approved the direct debit will become active.
This direct debit cannot be edited unless the approval process is stopped, or the authorisation link cancelled. It can then be edited and re-submitted or sent.
This approval process generally takes 30 minutes or less during valid business hours.
Re-Authorising
Direct Debits will remain active well being re-authorised and payments will continue as normal until changes are approved. Please note other changes cannot be made unless the re-authorisation is approved or cancelled.
When you edit a direct debit, sometimes you may make a change that is so big it requires re-authorisation. Customers will always be alerted to any changes made to their direct debit, however in these cases they will need to verify they have agreed to these changes.
When re-authorising you will be given the same options the first time you authorised a direct debit that allows a customer to sign in person, online, or be sent a link to re-authorise in their own time.
Depending on the recurring amount you want to debit, sometimes additional identification will be required from your customer to authorise their payment account. Please ensure your customers upload a clear legible photo ID of the authorised account holder/s as requested.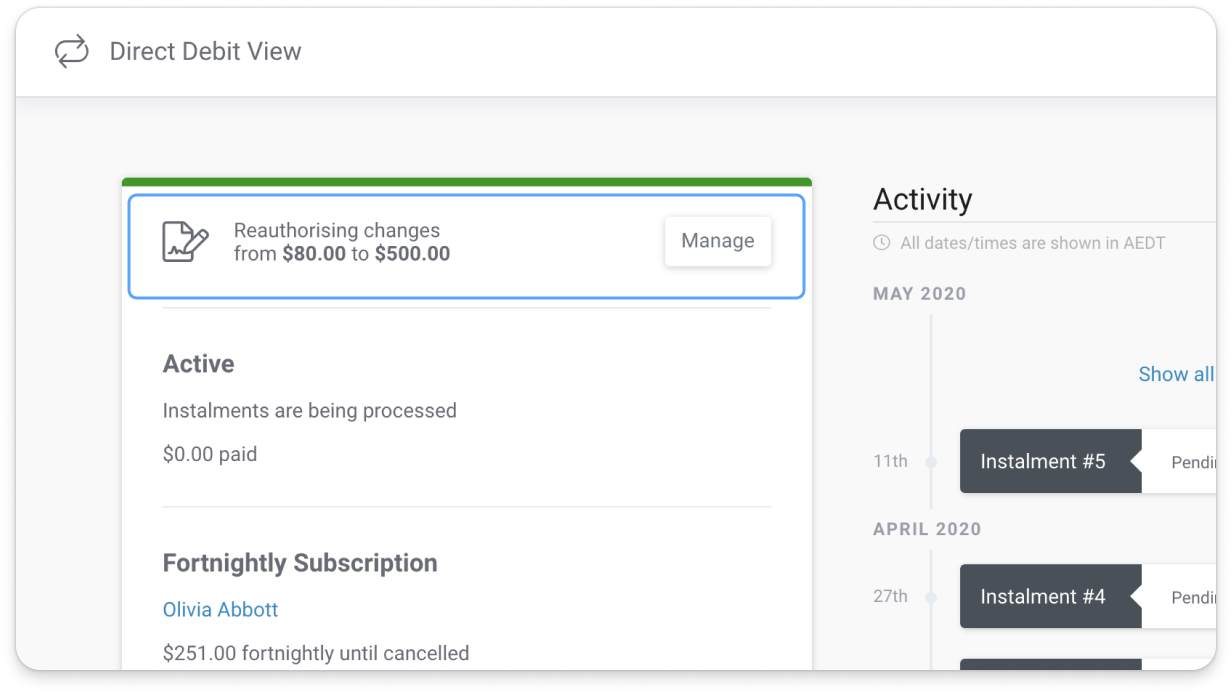 Cancelled
Once a direct debit is cancelled it will no longer be active or continue to process any payments. Cancelling a direct debit before all instalments have been paid will cancel any future instalments. They will still be visible on the timeline along with all other activity on this direct debit. This can be viewed at any time for your business records. A cancelled direct debit cannot be resumed.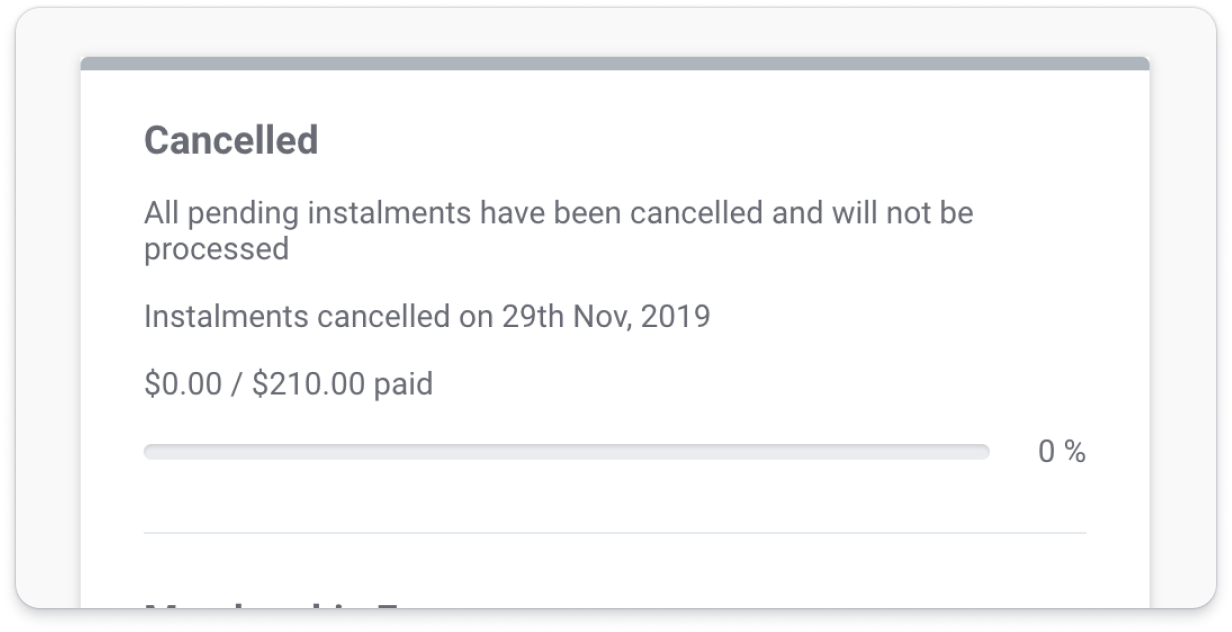 Complete
A direct debit becomes complete when all scheduled instalments/debits have been processed. A record of all activity on this direct debit will be visible on the timeline along with the direct debit details. A completed direct debit will not continue to process payments and can no longer be used.