Pay Advantage supplies clients with ready to go Direct Debit Request forms that can be printed without any additional setup.
Direct Debit forms can be downloaded from under Direct Debits in the menu. You can't alter the terms and conditions of this form, however you are permitted to place your own logo on the Direct Debit Request form.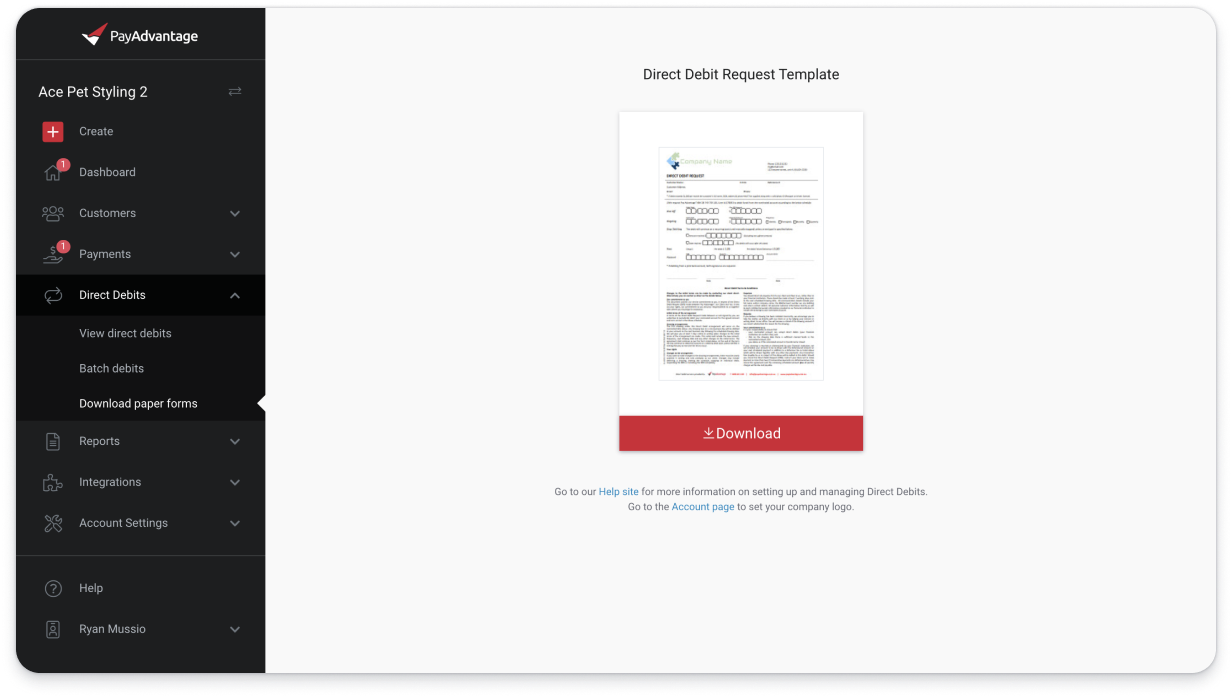 Add your logo to the form
If you have set-up your businesses branding already, your logo should appear on the PDF paper form. If you haven't set your branding settings this can be done from the menu under Account Settings and then Branding.
To ensure your logo is displayed correctly within Pay Advantage please ensure you upload a valid image file (GIF, JPG, PNG) is used and images are at least 300px (wide) x 120px (high). Your logo must meet one of the minimum width or height dimensions.
You can upload a larger image providing you maintain the same aspect ratio of 5:2.
Download your PDF form
Your form can be downloaded in the menu from under Direct Debits and then Download Paper Forms. This form is downloaded as a PDF ready to be printed, filled, and signed by your customers.
Uploading a paper form
When the form has been completed and signed, scan it back into your computer as a PDF or Image file and you can begin uploading your authorities into Pay Advantage to set-up direct debits. Learn more about creating a direct debit from a paper form here.