Payments received via credit card or direct debit can be refunded directly back to the original credit card or bank account.
Unfortunately there is no way to refund a BPAY payment. You can only refund the full amount of the payment at this stage. We are working to bring in partial refunds currently.
You will see a refund button providing that the payment has:
cleared
not failed
not part of a dispute
not a BPAY payment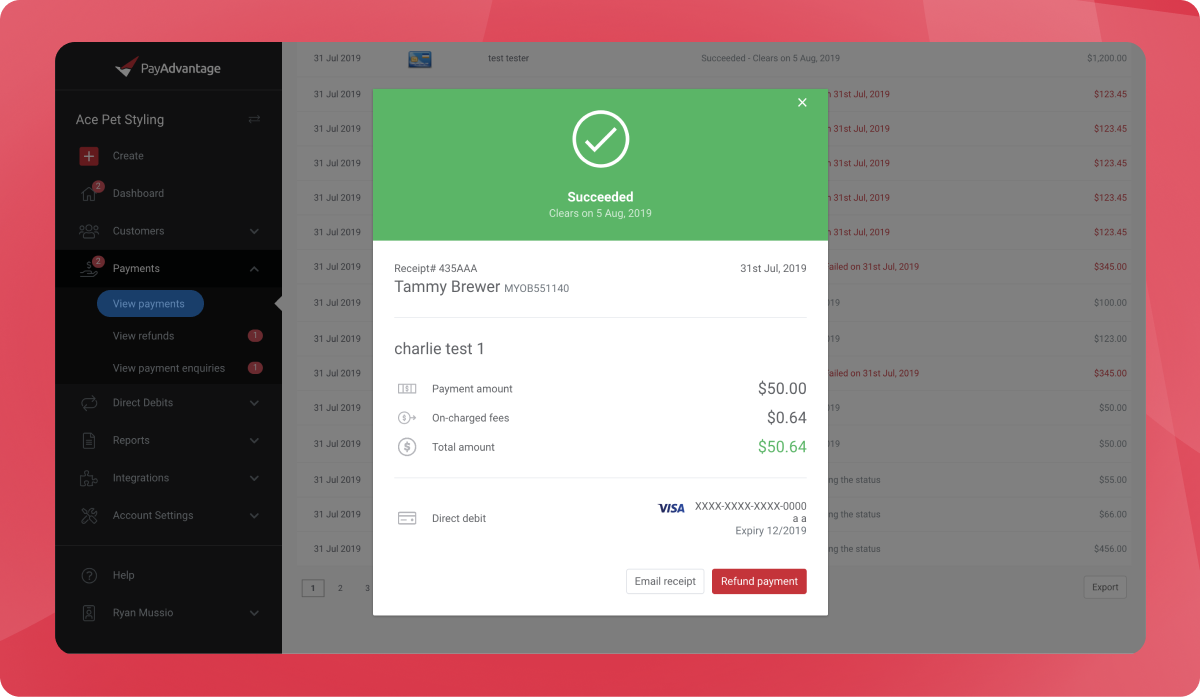 To perform a refund simply:
Navigate to Payments in the side menu and select View Payments
Search for the payment you want to refund and select it
Select the Refund Payment button
Enter a reason for refunding the payment and confirm the amount by selecting Refund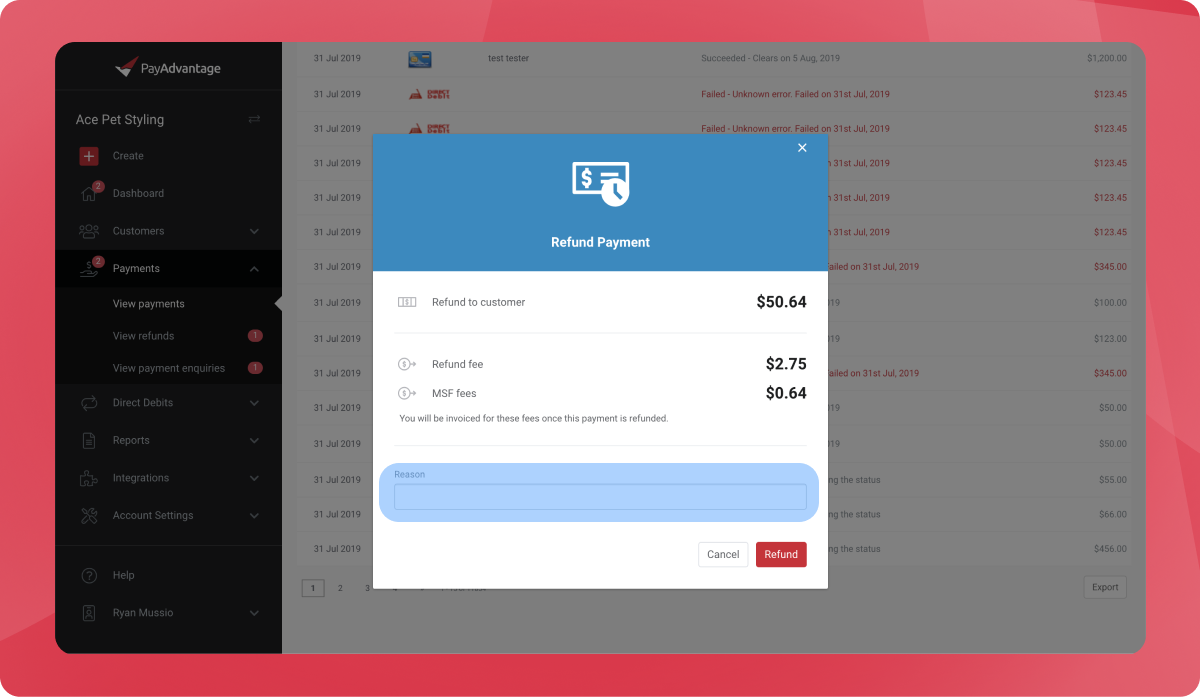 Depending on how your account has been setup and if the payment has settled to you we may need to recover the payment with a chargeback before refunding to the customer. As such refunds can take a few business days to clear and appear on the customers account.
You can monitor the status of a refund via the View Refunds section under Payments in the side menu.
What if a refund can't be processed? 
 If for some reason a refund can't be processed or a problem occurs, you will be notified and be able to take action through the View Refunds section under Payments in the side menu.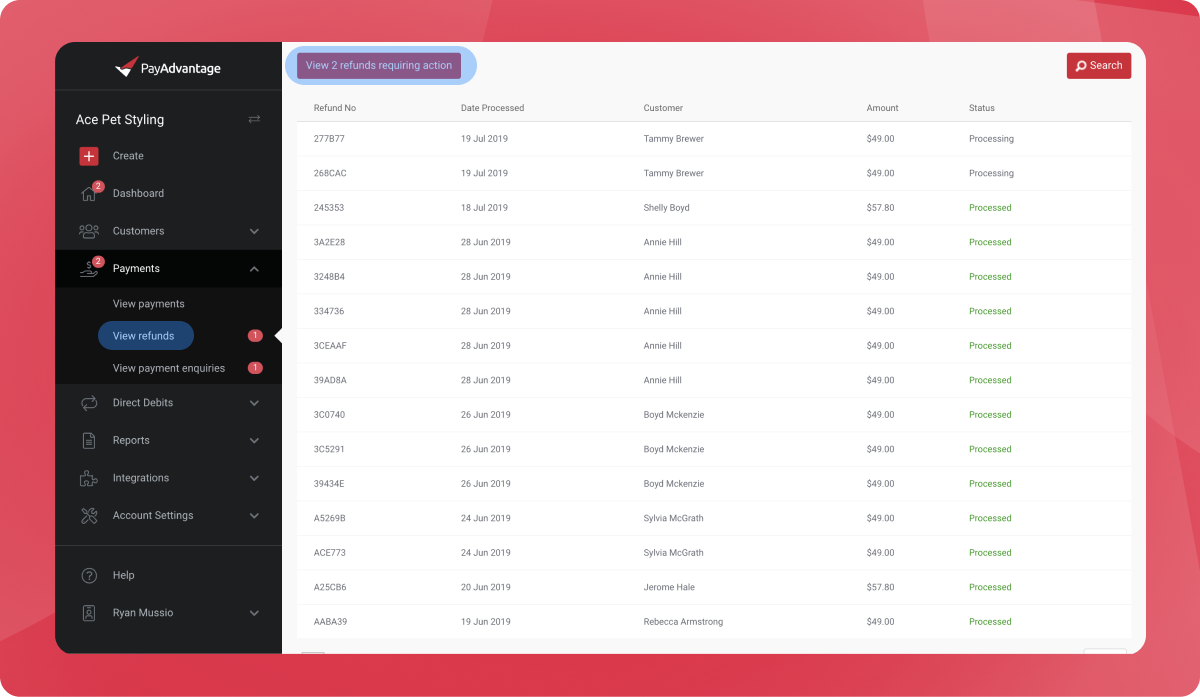 Navigate to this section in the secure platform and view Refunds Requiring Action through the button in the top left corner.
From here you can select any refunds that require action and retry the refund, cancel the refund, or refund to a bank account if refunding by card is not working.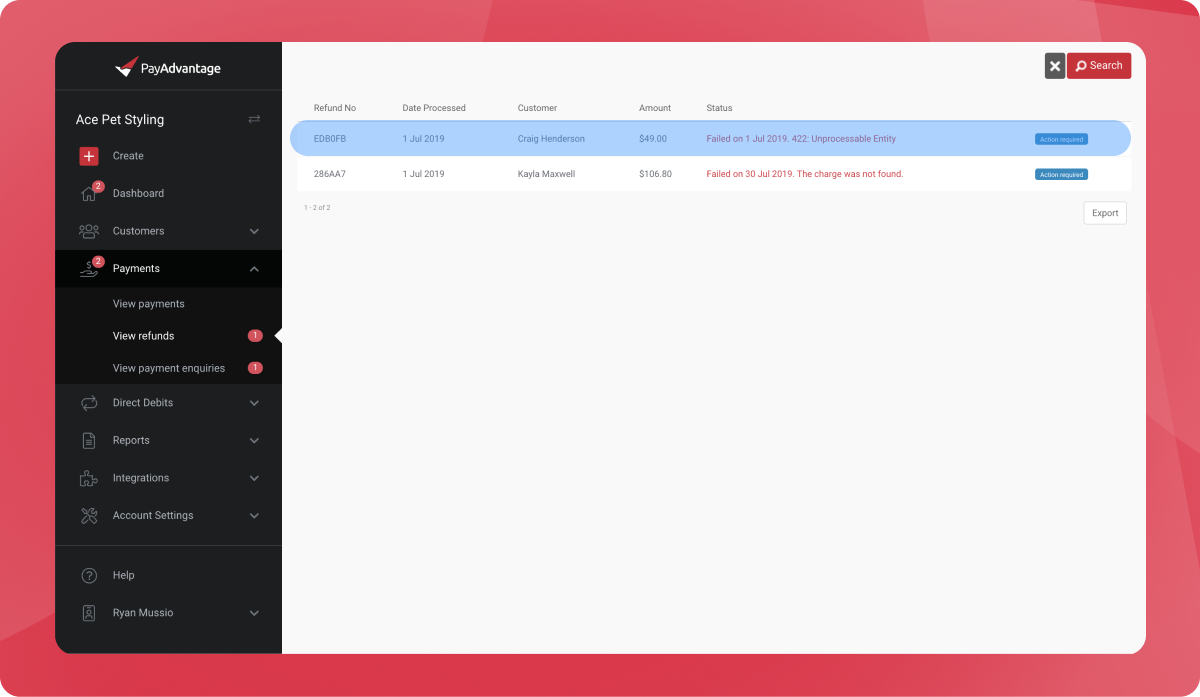 How we handle refunds
To properly refund a customer we need to settle and clear money between the merchant's account and the customer's account. The process of appropriately handling and moving this money can take up to 10 days. 
When a payment has settled into a merchant's account we request a chargeback and the money moves back to Pay Advantage where we wait for the chargeback monies to settle and clear. We then process the chargeback to the customer's bank so that the bank can verify the chargeback and the refund is considered valid.
Please be aware that as a merchant you can issue a refund before a payment has been processed properly. In some situations a payment could fail but also be refunded. In these situations Pay Advantage can not recover your refunded monies. As a merchant you should ALWAYS wait for a payment to be processed properly and be determined successful or failed before processing a refund.